Gender and Education in Kenya by Dr. Esther Lisanza
January 18, 2022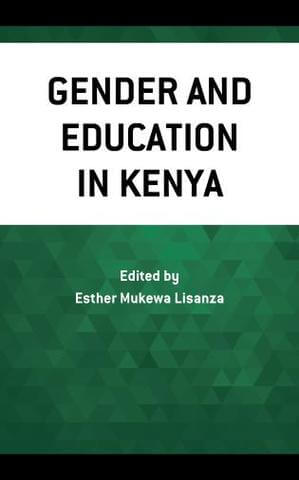 Dr. Esther Lisanza's recent book, Gender and Education in Kenya explores the intersections of curriculum, pedagogy, policy, and gender. The contributors study depictions of gender in textbooks, the presence and roles of girls and women within classrooms in Kenya, and female leadership in education, arguing that, despite recent policies put in place by the Kenyan government to ensure gender parity in education, there is still a need to make curriculum more gender responsive. Gender and Education in Kenya examines the disparity between male and female representation in education and advocate for more training for teachers about gender-related educational policies and implementing gender-responsive objectives in classrooms. The collection concludes with a study of the intersection of gender and disability with a chapter that explores the additional challenges for a blind girl in school and the lack of policies in place to help disabled students.
Dr. Esther Mukewa Lisanza's is an Assistant Professor in the Department of African Studies at Howard University. She holds a Ph.D. in Language and Literacy and an MA in African Studies from the University of Illinois, Urbana-Champaign, and an MA in Swahili Linguistics and Literature from the University of Nairobi. Her research centers on language and literacy development, politics of language in education, indigenous knowledges in Africa, and women empowerment in Africa.
Other books by Dr. Lisanza:
Lisanza, E. M. (2020). The Multivoices of Kenyan Children Learning to Read and Write. Palgrave Macmillan.
Lisanza, E. M. & Muaka, L. (Eds.) (2020). African Languages and Literatures in the 21st Century. Palgrave Macmillan. 
Categories
Scholarship